The Winter exhibition which is organised by artist/illustrator Brian Gallagher hangs at the United Arts Club, Dublin from the 14th of November until the 6th of December. I have two pieces exhibiting. Inspired by the Atlantic ocean and its treasures and meals around the dinner table; The Donegal Atlantic Lobster Christmas Recipe and the Oyster loving Octopus. All Welcome!
Hi Kids, next weekend, Saturday the 31st Aug! 🙂 See you then!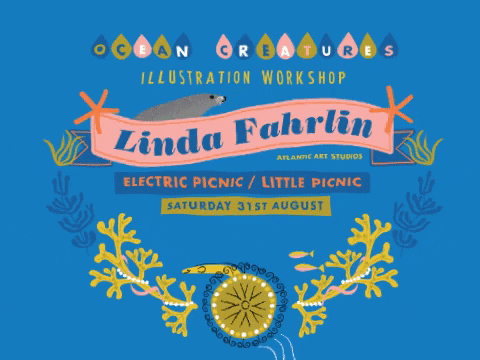 Around Dublin tomorrow?
Welcome to Urban – Rural, a new exhibition opening tomorrow night at the United Arts Club in Dublin. The show will be opened at 8pm by Pj Lynch. With work from the following illustrators:
Peter Donnelly
Alan Dunne
Linda Fahrlin
Jennifer Farley
Brian Gallagher
Adrienne Geoghegan
Una Gildea
Pj Lynch
Padhraig Nolan
Niamh Sharkey Author and Illustrator
margaret anne suggs illustration
Mario Sughi
Fintan Taite
The invite is by Alan Dunne.
All welcome!
Hi,
I am delighted to have a little pop up at the House of Illustration Summer Fair in Granary Square, Kings Cross, London. The event is taking place on Saturday the 30th of June.
Rumour has it Murphy has taken a swim to warmer waters and has been sighted in the Italian city of Bologna. (Admittingly far away from the sea!) More specifically at the "Ireland" stand at the Bologna Children's Book Fair!
Murphy intends to enjoy the warmer climate for the duration of the fair: 26th – 29th of March 2018.
So. It's that time of the year again, the Bologna Children's Book Fair is soon on! In recent years Illustrators Ireland has been participating showcasing members books. If you pass by the stand make sure to browse the illustrated bookmarks – here's my bookmark.